Family law matters typically involve complex emotions. Whether you are looking to expand your family via adoption or are facing the prospect of divorce, it is advisable to have a competent Peachtree City family law attorney on your side to guide you through the process and ensure that your interests are protected.
The legal team at Wade Law understands just how stressful and complex family legal issues can be. That's why we are committed to handling your case with the excellence and compassion you deserve. Contact our office near Peachtree City, GA today at 770-282-1188 for your free case evaluation.
What Qualifies as a Family Law Case?
Family law cases address a wide range of disputes and issues relating to various familial matters, including:
Contested and Uncontested Divorce
The unfortunate reality in America is that most marriages today end in divorce. However, whether divorce is contested or uncontested, it isn't as easy to dissolve a marriage as most people assume. It means settling a wide variety of issues, including child custody and property distribution. You need a competent Peachtree City family law attorney to represent you if you are going through divorce.
Parental Rights, Child Custody, and Child Support
Parental rights, child support, and child custody are some of the most contentious issues in marriage dissolution cases. If there's no agreement on who should have custody of the children, how the children are to be supported financially and what rights certain parents have, the case is usually brought before the family court. It will up to the court to decide on these matters, but it is still important to have a good family lawyer representing you and your interests.
Spousal Support and Alimony Agreements
Alimony, which is also known as spousal support refers to a periodic payment made by one spouse to support the other. Either spouse may be entitled to receive or obligated to pay spousal support, depending on the specific facts and family financial circumstances. A family lawyer is important for ensuring that alimony agreements are adhered to.
Legal Name Changes
It is possible for a child or an adult to legally change their name by filing a petition at family court. However, the petition needs to be filed in the county where the individual lives. Depending on whether the name change is for a child or an adult, there will be different requirements.
Restraining Orders
A restraining order is brought by one spouse limiting the other spouse's ability to have contact with them. The court can grant one if you or your children have been threatened or attacked, or have reasonable grounds for believing that you or your children might be in danger. If the order is violated, the police will intervene and may arrest the spouse that went against the Court Order.
DSS Cases
If you have been reported to the Department of Social Services (DSS) and you are under investigation, there's so much for you at stake as a parent. If you ever find yourself being investigated by the DSS, you need to hire a qualified lawyer to fight for your rights as an individual and as a parent.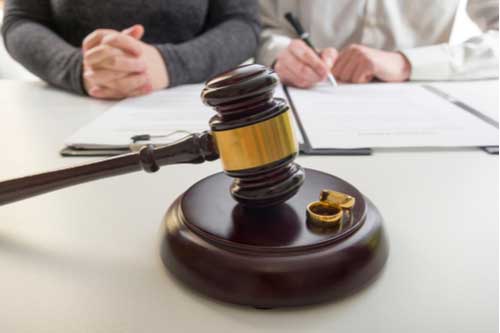 What Are the Grounds for Divorce in Georgia?
Georgia is a state that still recognizes "fault" grounds when it comes to divorce and either party can claim and be granted a divorce based on fault grounds. The state actually recognizes 12 fault grounds for divorce, which include:
Impotence at the time of marriage.
If one party was mentally incapable at the time of the marriage.
If the parties are too closely related by blood.
Incurable mental illness.
Cruel or abusive treatment.
Adultery by either party.
Habitual drug addiction.
If the marriage was obtained by force, fraud, duress, or menace.
Habitual intoxication.
The conviction of either party for an offense that involves moral turpitude and under which he/she is sentenced for a term of 2 years or longer in a penal institution.
If the wife is pregnant by another man at the time of marriage and the husband doesn't know about it.
The willful and continued desertion by either of the parties for a term of 1 year.
How Do You Start the Divorce Process?
To get started with the process of divorce in Georgia, you first need to file a Complaint of Divorce that explains to the court why you want it. You are required to state why you would like the court to grant the divorce, which should be based on the 12 grounds for divorce listed above. To take on this step and the rest of the legal steps involved in divorce, you need competent legal counsel representing you.
How Does the Division of Property Work in Georgia?
Equitable distribution is observed when it comes to the division of property in Georgia. It refers to dividing up both properties and debt obligations fairly in a divorce. In Georgia, marital property is defined as any assets or income earned during the course of the marriage. Therefore, generally, any property you owned before the marriage, but not transferred to your spouse is regarded as separate property.  Still, equitable division of debts is also considered in a divorce.
How Is Child Custody Decided?
The child custody laws in Georgia require the Court to make the best interests of the child the basis of making custody decisions. The law also makes it clear that it favors parents' agreements on custody and indicates that courts should only be used as a last resort. The Court typically considers 17 different factors to determine the most suitable custody arrangement for a child.
What Is Alimony and How Is It Decided?
Alimony refers to the amount of money to be paid from one spouse to another. In Georgia, alimony isn't regulated by any specific rule or regulation. It is up to the court in equity to determine the length and amount of alimony. Usually, when it is ordered, it is usually the spouse that's the higher earner who's ordered to make periodic payments to the lower-earning spouse.
Contact Our Peachtree City Family Law Attorneys Today
Whatever family law issue you might be facing, whether it is a divorce, an adoption, child custody, or have any questions regarding any family law matter, it is usually in your best interests to work with a competent lawyer. If you are in Peachtree City, GA, there are simply no better family lawyers than those at Wade Law. So, get in touch with us today for any assistance with a family law matter.