Regardless of the type of personal injury you or a loved one has experienced, our personal injury law firm understands the emotional stress as well as the physical pain and suffering you are experiencing. Our seasoned Fayetteville personal injury attorney will use their skills and knowledge of Georgia's laws to protect your rights and aggressively fight for the compensation and recovery you deserve.
In addition to the legal services and the emotional undertaking, severe injuries or wrongful deaths can lead to vast amounts of medical bills and expenses. The team at Wade Law believes that you and your loved ones should not have to bear the financial burden of another person or insurance company that's negligent actions. You are owed a duty of care and our law firm will fight to see that your well-being and legal rights are adequately represented.
Don't risk facing large insurance companies, personal injury lawyers or corporations without qualified representation that knows Georgia's laws and has successfully helped many clients with cases similar to yours. Call Wade Law today to receive a risk-free consultation with one of our top personal injury lawyers and experts. We will answer all of your questions and fight to get the most compensation for your suffering, as experienced injury lawyers
Why Do I Need a Personal Injury Lawyer?
In such a traumatic time of uncertainty, confusion, and overwhelming stress, it is important to retain counsel that you can count on and that will treat your matter with the respect and attention it deserves. The service Wade Law provides can be trusted for many reasons, including our experience, our resources, and our ability to give your matter the attention and dedication it deserves.
Our staff understands the legal process in conjunction with your timeline and subjective needs at the fault party and works hard to align the two to achieve an agreeable and ideal outcome. Our experienced attorney team also adds a beneficial element due to the knowledge we come equipped with and the resources available to us.
Wade Law prides itself on being small enough to provide you and your matter the medical attention, and communication deserved, yet powerful enough to bring an aggressive case against the party who injured you.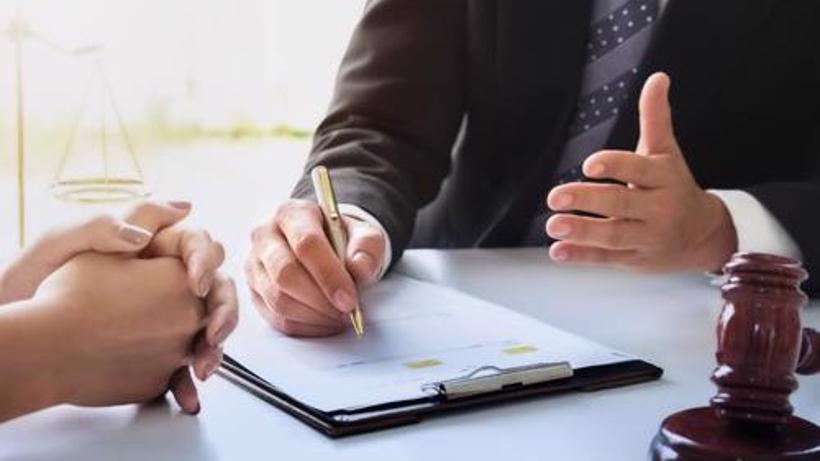 Types of Cases We Handle at Wade Law
The team at Wade Law is here to help you in any personal injury matter you may be involved in. Regardless of whether your personal injury claims occurred in a car accident, slip and fall accident, truck, or motorcycle accident, our attorneys bring over 60 years of experience to the table so that you get the representation you deserve. We know how difficult dealing with a personal injury suit can be and the long-term effects that can come with it, and we will aggressively work for you. Some of the cases we handle are:
Wrongful Death
Wrongful death insurance claims can arise from a variety of unfortunate scenarios such as internal injuries like medical malpractice, motorcycle or car accidents, truck accidents, or assault and battery instances.
An experienced Personal Injury Attorney with knowledge of applicable Georgia laws, and personal injury attorneys such as Jonathan Wade, can file a suit on behalf of those who survived your loved one when any of the aforementioned circumstances occur.
Georgia law specifically states that individuals have the right to recover "the full value of the life of the decedent without deducting for any of the necessary or personal expenses of the decedent had he lived." O.C.G.A. § 51-4-1. As a parent, spouse, sibling, or child of a lost loved one, you have the right to file a full insurance claim on their behalf.
Our firm aggressively stands up to large insurance companies to ensure you receive a fair settlement for the damages you deserve based on the other party's actions. Don't accept a lowball offer without speaking to a qualified Fayetteville wrongful death attorney first to understand your options.
Catastrophic Injury
Severe and catastrophic injuries can result from a variety of circumstances, yet they most commonly result from car accidents, sports practice or games, work or construction site incidents and many more. The severity and possible permanence of catastrophic injuries may hinder the injured person's ability to work in the long-term or indefinitely, which may result in a gross loss of income.
If you or a loved one has suffered a serious accident or catastrophic injury to the brain, spine or skull or resulted in paralysis or disfigurement, you may be entitled to a lifetime of benefits.
The elevated severity, heightened levels of emotion, complexity of case, long-term permanence of the injury sustained injuries, and trauma endured from catastrophic personal injury cases, make them some of the most difficult to handle. Our catastrophic injury attorney understands these challenges and aggressively combats them on behalf of our clients in support of financial recovery and their well-being.
A Fayetteville personal injury attorney at Wade Law believes you and your family should not have to bear the financial burden to care for injuries caused at the fault of another, and will diligently work to achieve a successful outcome.
Car Accidents
After a car accident, most people are left in a state of shock, potentially injured, and extremely worried about the potential long term impact for themselves and their families. Even if you do not suffer a serious injury, you may still incur thousands of dollars in unexpected expenses.
Whether it is getting your vehicle fixed, missing time off work because of an injury, or facing a life-altering permanent disability, your finances will be taxed and potentially unable to keep up. To make the matter worse, someone else's negligence caused you to suffer these immense damages. When this situation arises, a car accident lawyer in Fayetteville provides you the greatest likelihood of being fairly compensated.
The car wreck attorneys at Wade Law bring over 60 years of personal injury experience to bear for you. Because of the prevalence of car accidents, we have handled hundreds of cases, obtaining millions of dollars for clients, and learning all of the ins and outs of handling these type cases. We know the stress you are facing and seek to alleviate that pain for you.
Our attorneys will handle every step of the process for you, letting you focus on getting better physically while they seek maximum compensation for your damages.
Motorcycle Accidents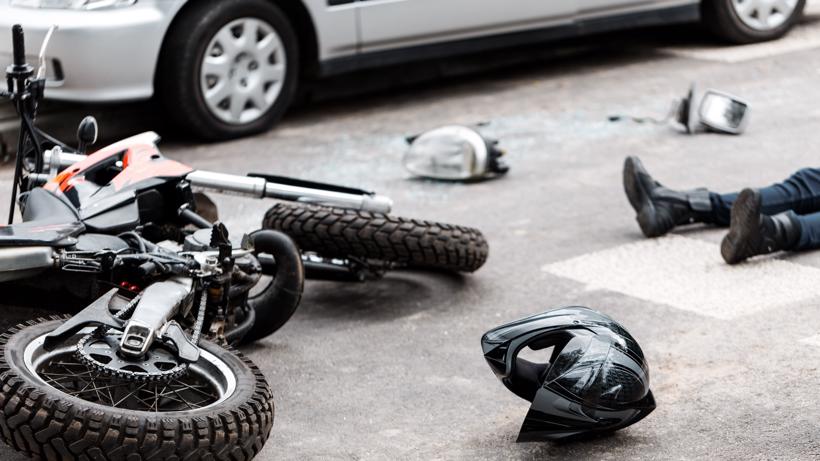 Despite the amount of effort or care you put into riding a motorcycle, accidents may be inevitable and injuries often occur. Improper lane changes on behalf of other drivers or automobile drivers opening their car doors without heeding to motorcycle drivers can cause severe injury or death to motorcyclists. A Fayetteville motorcycle accident attorney can file a claim on your behalf based on the driver's negligence, allowing you to recover for your injuries, losses, and expenses.
Insurance companies may attempt to persuade you with a one-time settlement offer and as a result, you may be insufficiently compensated for your damages. Wade Law ensures all sources of compensation are exhausted and all possible parties adequately provide you with the recovery you deserve.
Motorcycle accidents can result in an abundance of medical bills, expenses, and loss of wages, in addition to your pain and suffering. Our firm is experienced with what compensation and recovery are available to you based on your circumstances and will diligently solidify every possible dollar on your behalf.
Georgia residents are provided a variety of available types of insurance coverage available to injured parties, including liability insurance, uninsured motorist coverage, or UM as it is referred to in Georgia, and med pay. Our Fayetteville personal injury law firm will ensure each source is addressed and all possible compensation available is received.
Truck Accidents
Given the size and nature of trucks, semis, and tractor-trailers, the accidents and injuries they cause can be severe for the people involved. Their design, weight and logistical setup also make them privy to roll-overs and jack-knifing, which can be devastating to much smaller passenger vehicles, motorcycles or bicyclists.
An experienced Georgia truck accident lawyer, such as Jonathan Wade, will not hesitate to stand up to large insurance companies who will attempt to offer insufficient settlements. Our firm will fight for your legal and compensatory rights and ensure the best possible outcome in your case.
Trucks and their drivers are held to certain standards they must comply with in order to maintain proper maintenance and operation of their vehicles. Federal and state regulations are in place due to the fact that larger vehicles have the ability to pose a greater threat to other drivers if not adequately maintained or operated.
Regulations exist and pertain to facets such as braking systems, hazardous material transportation, security and weight of loads, rear impact guard installation and many other requirements.
Drivers are also held to a high standard and must operate their trucks meeting specified regulations such as acquiring specified training and licensing, limitations for hours of operation, required load inspections and length of time drivers may operate vehicles. If a driver or their truck is not in compliance with regulation, an accident occurs based on their negligence and you suffer personal injury as a result, you could have the right to compensation and recovery.
Traumatic Brain Injuries
Almost two million people per year in the United States have been unfortunate victims of traumatic brain injuries, and many of which have been compensated for their losses by the help of qualified legal representation. Our law firm sympathizes that you are inundated with doctors' appointments, therapy sessions, medical bills, and other expenses, and our firm can help reduce the trauma of your recovery process.
Individuals may be entitled to recover damages and compensation for pain and suffering. Additionally, if the injury occurred while on the job, you may be able to recover medical bills and costs, lost wages and temporary or permanent disability benefits.
Considering the nature of traumatic head and brain injuries, a variety of symptoms may arise. If you experience symptoms such as behavioral changes, headaches, nausea, change in mental clarify, trouble sleeping or decline in coordination after a motorcycle or automobile accident, serious slip and fall incident, construction or workplace injury, a sports-related injury, or were the victim of a violent assault, you may be entitled to receive recovery. Contact brain injury attorney Jonathan Wade today.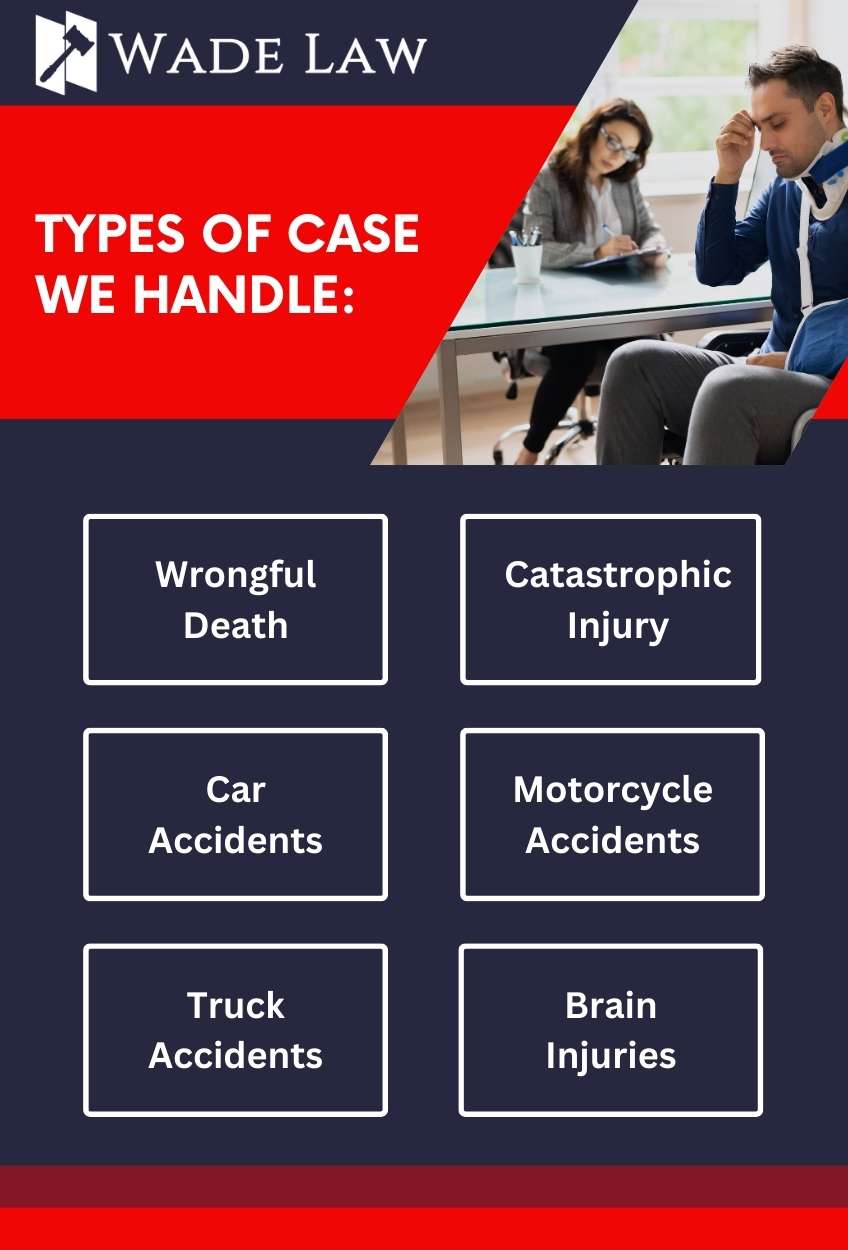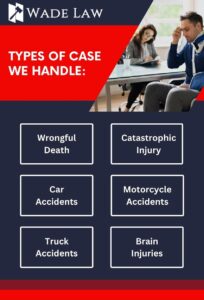 Personal Injury Damages Under Georgia Law
In order to prevail in a personal injury lawsuit in Georgia, one has to show that he/she has suffered "damages" caused by the defendant's negligence. Under Georgia law, there are two major components to damages, so-called "special" damages and "general" damages. Before we can assess these damages, however, we first must understand the elements of a personal injury or car accident lawsuit.
Under Georgia law, one has to prove 1) that another was negligent in a given activity and that 2) that negligence caused him/her injury. For example, a driver talking on his/her cell phone runs a stop sign. That driver is negligent. What if a second driver gets blind-sided by the negligent driver and suffers a broken arm in the impact?
In this case, there is negligence by the first driver (running the stop sign) and injury to the second driver as a result (broken arm). In this case, the second driver would most likely be able to recover "damages" from the negligent driver for the injury. These damages would include both "special" damages and our "general" damages mentioned above and a Fayetteville car accident lawyer will be able to pursue compensation for both types of damages.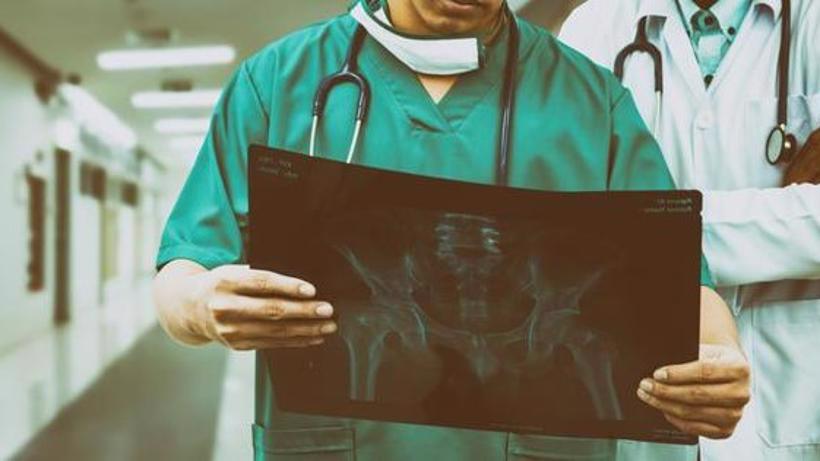 "Special" damages are ones that are monetary and quantifiable. They are, for example, medical bills and lost wages. They can be objectively calculated by adding up all the hospital and doctor bills, multiplying rate of pay by the number of days missed from work, etc. They are called "special" damages because they are unique to that specific person's situation and injury.
"General" damages are generic or implied damages. These "pain and suffering" damages, however, are much harder to calculate. For example, when the second driver suffers a broken arm, in addition to incurring medical bills and possibly losing wages, he/she also suffer interference with normal living; actual physical pain and suffering, past and future; mental anguish, past and future; limitation of his/her activities; and so on.
Unfortunately, these damages do not come with a price already assigned to them, like an X-ray or a doctor visit, so how are they calculated? Because they are so subjective, they are to be decided by the "enlightened conscience of a fair and impartial jury."
Because of this built-in discretion, lawyers and insurance companies argue every day over these calculations. Every single case is different, so every single measure of damages is different. It is therefore critical that the injured person has legal representation to ensure that the insurer fairly compensates the injured person for both their special and general damages in order to receive fair compensation for their injuries.
Contact A Fayetteville Personal Injury Attorney at Wade Law Today
We look forward to speaking with you and helping to relieve the burdens you and your loved ones have experienced. Our knowledge of Georgia laws and previous successful case matters will be used and put to hard work on your behalf in order to obtain the best possible outcome. From our initial conversations through to the finalization of your matter, Wade Law will support you through each step of the process and advise you on important decisions that must be made.
We understand that communication is essential and strive to keep our clients informed when relevant and necessary. Each case is important to us and so are you and your family's long-term health and financial well-being. Call our office today to let our Fayetteville personal injury attorney handle the legal process while you and your family focus on important things such as coping, grieving and healing.
GET DIRECTIONS
Our Fayetteville office is located on Devant St in Fayetteville, GA. It is situated between Marquis Dr and Ginger Cake Rd. Our office is located minutes from Old Fayette County Courthouse, Fun Spot America Atlanta, Georgia Aquarium, Centennial Olympic Park, and Hartsfield-Jackson Atlanta International Airport. We serve the Greater Fayetteville Area including Fayette County, Peachtree City, Clayton County, Morrow County, Jonesboro, Atlanta and surrounding areas.
Coming from Atlanta, GA: Take I-75 S/I-85 S, keep right at the fork to continue on I-85 S and follow signs for Domestic Airport/Montgomery. In 5.9 miles keep left to stay on I-85 S and in 6.6 miles take exit 64 for GA-13B. Use any lane to turn left onto GA-138 E and in 0.9 miles turn right onto Lester Rd. In 0.2 miles turn right to stay on Lester Rd and continue onto Newton Rd. In 0.2 miles turn left onto GA-92 S and in 3.8 miles turn right onto Ginger Cake Rd. Turn left in 3.1 miles onto Devant St then left at Lemans Dr. Wade Law Office will be on the left.
Coming from Griffin, GA: Use W Taylor St to turn right onto N Expy and in one-mile turn left onto Ellis Rd. In a mile and a half, turn right onto Henry Jackson Rd then turn left onto GA-92 N. In 14.9 miles, continue straight onto Jimmie Mayfield Blvd then turn left onto Bradley Dr. In 0.7 miles, continue onto Grady Ave and at the traffic circle continue straight onto Grady Ave. In 0.7 miles, turn left onto GA-54 S/Floy Farr Pkwy/W Lanier Ave and in 0.9 miles make a slight right onto Lemans Dr. Wade Law Office will be on the left.
Coming from Newnan, GA: Begin on Jefferson St to continue onto GA-34 E/Bullsboro Dr. In 10.7 miles continue onto GA-54 N and in 9.5 miles turn left onto Ginger Cake Rd. Turn right onto Devant St then turn left at Lemans Dr. Wade Law Office will be on the left.