Although it may be difficult to ascertain the amount of pain you are experiencing due to your traumatic brain injury, Wade Law understands the overwhelming nature of the recovery process and we are here to help you. In fact, the Centers for Disease Control and Prevention state that almost two million people per year in the United States have been unfortunate victims of traumatic brain injuries. Many have been compensated for their losses with the help of a Fayetteville brain injury attorney. We sympathize that you are inundated with doctors' appointments, therapy sessions, medical bills, and other expenses, and our firm can help reduce the trauma of your recovery process. When dealing with the aftermath of a serious injury, it is always best to contact a
personal injury attorney in Fayetteville
. They will be able to assist you throughout your recovery process, taking the stress off of your shoulders so that you can focus on recovering physically. Call Wade Law today at
770-282-1188
for a free consultation with our specialists. Our experts will fight to get the most compensation for your brain injury.
The Nature and Symptoms of Traumatic Brain Injuries (TBI)
A TBI, or
traumatic brain injury
, most commonly occurs in one of two ways: (1) a closed head injury or (2) a penetrating head injury. The distinction between the two lies in the contact an object has with the head and the resulting outcome. If an object pierces through your skull and causes damage to the brain, you are the victim of a penetrating head injury. A closed head injury occurs when contact is made between an object and your head, but your skull has not been penetrated. Injury can also occur without contact to the head if a person is aggressively shaken hard enough to cause damage to the brain. Considering the nature of traumatic head and brain injuries, a variety of symptoms can occur. If you experience any of the following symptoms after a motorcycle or automobile accident, serious slip and fall incident, construction or workplace injury, a sports-related injury, or were the victim of a violent assault, please contact our office and ask to speak with a Fayetteville brain injury attorney:
Mood swings or behavioral changes
Lack of energy or increased need for sleep
Lack of mental clarity, focus, and sharpness
Nausea or motion sickness
Feelings of unbalance
Headaches or migraines
Decrease in eye-hand or other coordination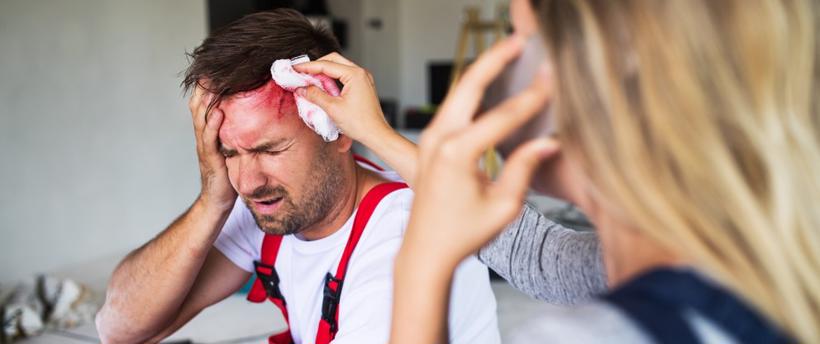 Wade Law Firm Can Help You Recover From Your Traumatic Brain Injury Losses
Traumatic head or brain injuries result in an abundance of expenses, pain and suffering, and other unexpected costs that you should not have to be burdened with.  Oftentimes, individuals are unable to work and also suffer due to a loss of income or wages, which can be included in recovery sought on your behalf. If the injury occurred while on the job, you may be able to recover medical bills and costs, lost wages, and temporary or permanent disability benefits. Our
car accident lawyers
have experience working with many clients who have incurred similar pain and suffering through the road of recovery. We aggressively represented each one every step of the way and look forward to doing the same for you.
Your Traumatic Brain Injury Attorney in Fayetteville, Georgia
Wade Law
prides itself on its years of experience and its compassion to thoroughly understand your circumstances, protect your legal rights and your right to live an enjoyable life. You should not be a suffering victim at the fault or negligence of someone else. If another person's negligence, meaning their actions or failure to act when they had a duty to, caused you to suffer a traumatic brain injury, our firm may be able to help you receive the compensation you deserve. The legal issue surrounding a personal injury claim based on negligence can be complex, therefore it is important to obtain experienced and qualified representation that can adequately analyze your matter, retain necessary experts and witnesses and provide an aggressive case on your behalf. If you or a loved one suffers from any of the aforementioned symptoms, be it from a
truck accident
or any other
personal injury
,
contact our firm today
to schedule a consultation and discuss your options.