Even if you are a safe driver, you can still be affected negatively in bad weather, especially during the winter season. In addition to rain, sleet, hail, or snow making it difficult to see while driving, when considering how weather effects roadway conditions, pavement friction and traffic flow, it is very likely that you could end up in a car crash. It is the responsibility of every motorist to drive with care and make necessary adjustments for bad weather conditions. However, if you do find yourself in a Georgia car accident, you will need a lawyer on your side to help determine if the other driver's negligence is what led to your crash. Negligence is the main factor in determining car accident fault and whether a settlement is due.
How Common Are Bad Weather Car Accidents?
The Federal Highway Administration (FHA) keeps track of bad weather car crashes, defining weather-related accidents as those that occur in rain, fog, snow, sleet or severe winds. According to the statistics, over a 10 year period from 2005 to 2014, the National Highway Traffic Safety Administration (NHTSA) noted an average of almost 1,300,000 accidents annually were weather-related throughout the United States. These crashes caused almost 6,000 fatalities and over 445,000 injuries on average and NHTSA data showed that almost one in four deaths in all vehicle accidents nationally is caused by unfavorable weather. It is critical that you take extra care when driving in these conditions in Peachtree City, GA if you are to avoid a serious accident and have a successful settlement of your car insurance claim.
How is Car Accident Fault Determined for a Settlement in Peachtree City?
Every driver has the duty to drive with the necessary care and follow the rules of the road to avoid a collision, no matter the weather conditions. This means that you should take extra precautions to avoid being apportioned blame for a car crash in adverse weather. Reduce your speed, increase your following distance from the vehicle in front of you and be more alert to what's going on around you so that you can anticipate problems before they occur and take appropriate measures to avoid an accident.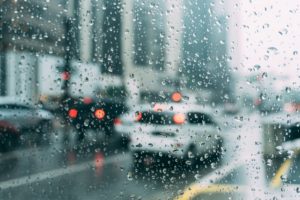 In anticipation of adverse weather conditions, you need to ensure that your vehicle is fully roadworthy at all times, that your tires are in good condition and that your wipers and all your lights are fully functional. If you fail to do this, you almost certainly will not be awarded a car accident settlement by your insurer.
If you are in an accident despite your best efforts, it may be possible to prove car accident fault by considering whether the other driver was doing any of the following:
Driving with worn tires

Having faulty windshield wipers

Failure to use wipers or lights

Distracted while driving

Driving recklessly or aggressively

Failure to heed road signs or obey traffic signals

Driving while fatigued or drowsy

Driving while impaired
Can Bad Weather Be Blamed for a Georgia Car Accident?
It is very difficult to prove that unfavorable weather conditions were the cause of a vehicle crash. The determination will always hinge on what a reasonable person, taking the right amount of care, would do under these circumstances. For instance, if you were driving in rain or fog in Peachtree City, a reasonable person would turn on their lights and slow down.
The same could be said when driving in snow, sleet or on an icy roadway. When weather conditions become so bad that they impair visibility or make driving especially hazardous, you could be expected to pull off the road and wait until conditions improve before continuing your journey.
How Can I Ensure a Successful Car Accident Settlement?
All the factors mentioned above will be taken into account when you request a settlement with the insurance company for your car accident in Peachtree City. Insurers have access to plenty of legal resources and have extensive experience in fighting these types of claims. They may even petition a court for a jury trial to settle your claim. Even if they lose the case, they will fight to lower the settlement award for your car accident as much as possible.
Jury trials can be daunting for the average layman. If you go to trial unrepresented, you need to be clear with your facts to convince a jury that you are deserving of a settlement. If not, you may lose entitlement to your claim or face a significant reduction in the amount that the court awards. Even if your case does not go to trial, you need to hire a car accident attorney in Peachtree City, GA to represent you. The sooner you do this, the better, so that the lawyer can meet the statute of limitations for your claim, adequately prepare your case, and attempt to prevent a costly lawsuit in the event of a car accident settlement dispute.
Consult with a Georgia Attorney to Discuss Car Accident Fault
If you have been in a bad weather car accident that you feel was the fault of the other driver, then you need to seek experienced legal representation. For a free consultation for your case where you can discuss car accident fault, contact a car accident lawyer at Wade Law Offices in Peachtree City, Georgia.