Nobody plans to be in an accident, nor is anyone prepared to face one. It can be difficult to anticipate what can be the consequences of a truck accident in Fayetteville. If you are lucky, you may sustain minor injuries, but there can be incidences that result in fatal injuries.
A serious accident would mean a lot of expense in the medical procedures and taking time off work for long periods. Adding to this, the recovery may take longer than usual, making the truck accident's impact greater than you imagined. This is why it becomes important to seek legal help by consulting a truck accident attorney in Fayetteville. Read further to know what steps should be taken after a truck accident.
Steps to Be Taken Following a Truck Accident in Fayetteville
Being involved in a truck accident is stressful and overwhelming. Here is what you should do to help your case.
Seek Medical Help
The first step to take after an accident is to seek medical help. This is no time to think about your losses or how to proceed with an accident case. You might have a feeling that everything is alright on the outside. But only a physician can confirm whether the injuries are minor or major. If needed, he can refer you to a specialist who can further assess your injuries. You can also choose to call an ambulance for help.
Call the Police
It is mandatory to inform the police about a truck accident if there are injuries or deaths or if the property damages sum up to more than $500. Whatever is the case, it is wise to call the police to create a legal record of the incident to be submitted to the insurance company.
If requested, the officer will give you a copy of the accident report, which can come in handy for your legal case. Remember to note the officer's name and badge number.
Exchange Information With the Other Driver
Getting personal and insurance information from the other driver can help file the insurance claim for self and the vehicle. It can also be vital once you decide to file a lawsuit. If you can physically do it, perfect, but if not, you can ask someone else present to get it for you.
These details can also be collected from the police report later. If you are under treatment for your injuries, you can ask any dear one to collect them. Do not hesitate to give your personal information to the other driver. He will need it as much as you find it useful.
Keep a Record of the Accident Scene
Take photographs of the accident scene, both the vehicles and the injuries (if any) if you can do it. You can take help from onlookers if you are not in a condition to do it yourself. All these constitute a solid record that you can hand to your accident lawyer for further proceedings.
Note any comments given by the other driver. Any excuses, apologies, or accusations should be written down. This can prove important for your case.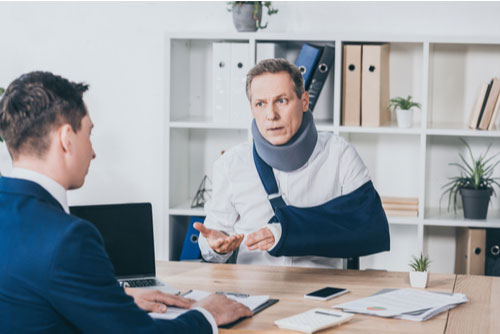 Contact Your Insurance Company
The accident should be immediately reported to your insurance company without considering who is at fault. When you call, mention every detail without leaving any important information when filing a claim. It is better to contact the agent while at the accident scene as this might allow you to share the exact details as it is.
Contact a Truck Accident Lawyer ASAP
A Fayetteville truck accident attorney is just a call away, and this is an important step to take if you have had a truck accident in the city. This ensures that you will get fair compensation for your damages and injuries. You may think that all you have to do is make an insurance claim, and you will get all that you deserve. But this is not so.
As a person who knows little about legal matters, you may not fully know how much you can get for your damages. An attorney can help you calculate your compensation based on your damages. He will investigate the area where the accident occurred and can even be smart enough to prove that it was the other driver's mistake.
Also, a truck accident attorney is the best person who can collect evidence that makes your claim strong. Handling the insurance company officials and others associated with the truck accident will not be easy if you don't have a lawyer. And this means a lawyer is imperative even if you feel that your case is not very strong. An intelligent lawyer can make the evidence look stronger than it is.
There Can Be Many Defendants
There have been many truck accident cases in Fayetteville where the truck drivers were at fault. They could break the speed limits, drink and drive, or ignore traffic signals, and the reasons can be many to hold them liable for the accident. But this is just one side of the story.
Truck companies can also be held responsible for truck accidents. Many trucking companies create unsafe driving conditions for the drivers by forcing them to use unsafe vehicles or making them work for longer hours than they should.
Cargo companies sometimes overload trucks to save money or load them poorly, leading to difficulty managing the vehicles on the road. From a legal point of view, these companies are equally responsible for truck accidents in Fayetteville.
Whether the companies are responsible or the driver, you will be able to get compensation for lost wages, property damage, lost earning capacity, medical expenses, and the pain that you and your dear ones had to endure resulting from the accident. An attorney will help you prove that you had to bear these damages and develop a solid case.
Find the Best Truck Accident Attorneys in Fayetteville
It is not difficult to find a good truck accident attorney in Fayetteville. In fact, many personal injury attorneys offer a free initial consultation. You can explain the accident at the first appointment, and the attorney will take it up from there.
Remember that it is not advised to sign on any paper given by your insurance company without consulting with your personal injury lawyer in Fayetteville. These companies may not have your best interests in mind, but an accident attorney does. A lawyer can guide you on any matter related to your claim and never forget this fact. Contact us today to learn more.