Drunk driving accidents are some of the worst types of car accidents. As any Fayetteville car accident lawyer will explain to you, DUI drivers are not in full control of their senses and reactions and, thus, unable to even try to prevent a crash.
In most situations, they cause accidents that result in severe injuries and extensive property damage. For accident victims, this means spending a lot of time in the hospital and accumulating medical care bills, while they are no longer able to work and collect paychecks.
An experienced attorney knows that an accident involving a drunk driver may pose specific challenges, such as the fact that their insurance coverage has already been used up to pay for another injured driver's damages. It is not unlikely for people who disregard other people's safety to be repeat offenders.
This is why you will need the assistance of a skilled Fayetteville car accident lawyer if you were injured in a DUI accident.
Georgia DUI Laws Are Tough, But Many Drivers Still Defy Them
The Official Code of Georgia 40-6-391 states that it is illegal for a person to be "in actual physical control of a vehicle" if they have a BAC level exceeding:
0.08% or greater for passenger vehicle drivers
0.04% or greater for commercial vehicle drivers
0.02% or greater for drivers under 21 years old.
This actually means that a police officer can charge the driver with DUI even if the car is stopped, but the driver is in a position to start it and drive off. The penalties for drunk driving are also serious in our state and involve jail time, fines, community service, and suspension of the driving license.
A drunk driver who is convicted of a second DUI within 5 years must also surrender the license plates until their driver's license is reinstated. On the third offense, the court will order the car driven at the moment of the offense to be forfeited and sold.
Such severe penalties should deter people from driving under influence. The sad reality is that it is not so – and a Fayetteville car accident lawyer sees that almost on a daily basis.
The Challenges of Winning Compensation in a Drunk Driving Accident
Drunk driving is in itself a sign of recklessness and lack of care for other people's safety. By extension, a drunk driver is not likely to comply with many other duties they have.
Over the years, our attorneys fought to win compensation for drunk driving victims in cases involving:
1. Underinsured or Uninsured Drivers
A drunk driver may be uninsured or maintain only the minimum coverage amount required in Georgia:
$25,000 for bodily injury per person
$50,000 for bodily injury per accident
$25,000 for property damage.
Since every traffic violation results in higher insurance premiums, reckless drivers stop renewing their insurance. This makes it harder to recover economic and non-economic damages. Your only legal recourse is to sue the negligent driver.
2. Drivers Refusing the Breathalyzer Test
Drivers in Georgia have to obey the implied consent principle. This means that, once they get their driver's license, they must accept to submit to chemical tests if a police officer suspects that they are driving under influence of alcohol or drugs.
Refusing to do so, results in an immediate suspension of the driver's license. However, it also means that a Fayetteville car accident lawyer cannot prove the driver's negligence and breach of the duty of care as easily.
However, it does not mean that it is impossible to prove that the drunk driver is at fault for the crash and owes you economic and non-economic damages. On the other hand, having proof the driver was drunk may entitle you to seek punitive damages in a personal injury lawsuit.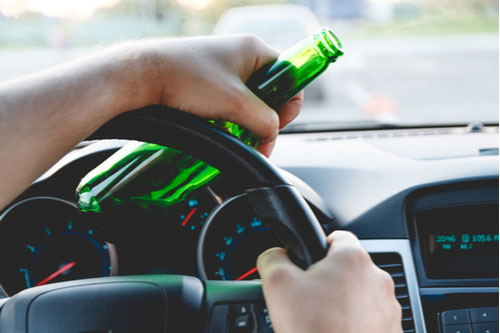 3. The Drunk Driver Leaves the Accident Scene
DUI drivers are more likely to commit a hit-and-run accident than other drivers. This is also true if they already have a previous DUI conviction. Actually, a DUI charge in Georgia can be elevated from misdemeanor to felony in several situations, including in the case when the driver causes serious injury or death to another person.
A felony charge carries very severe penalties, including a minimum of one year in prison. Thus, a drunk driver who already disregarded your safety by driving under influence, will further disregard your need for medical assistance and flee the accident scene before you can report the crash to the police.
What You Should Do If Hit by a Drunk Driver
In most cases, you won't be aware that you were hit by a drunk driver until the police administer the field sobriety test or a Breathalyzer test. In some cases, you can smell alcohol on their breath – but you should not make any speculations and mentions of this either to law enforcement officers or to an insurance adjuster.
Instead, do the following.
1. Get as Much Information as Possible about the Car and Driver
One never expects the other driver to leave the crash scene – but a seasoned Fayetteville car accident lawyer knows that this happens. So, you should always assume the worst and note the car's make, model, and color, as well as the license plate. It would be great if you manage to snap even one photo of the vehicle with your mobile phone.
If the driver remains at the scene, the law states that you should exchange contact and insurance information with them.
2. Do Not Confront the Drunk Driver
It is natural to feel angry and upset after being hit by another car. However, do not take your frustration out on the other driver – this is not how you will get justice. This is even more important when you are dealing with a drunk driver – who may act out of character and become violent. Plus, it will never help your case if the police officers arrive at the crash scene and find the drivers engaged in a fight.
3. Let an Experienced Fayetteville Car Accident Law Firm Negotiate Your Claim
At Wade Law, you will find a team of experienced and dedicated Fayetteville personal injury attorneys, who know how to win even the most complex cases. A drunk driver poses the added risk of being uninsured or underinsured. They may even leave the accident scene, leaving you to fend for yourself and seek medical care.
However, we do not leave you to fend for yourself. A Fayetteville car accident lawyer will analyze your accident carefully and represent you on a contingency fee basis if your case has merit. That means your lawyer only gets paid if you get compensation.
Call us now at 770-282-1188 to schedule a free case review!